Do you want to increase your restaurant sales? Then you need to start offering online food delivery to your customers! The first step is to create a restaurant menu online that clients won't be able to say no to.
No need to contact developers, learn how to program or other strenuous activities. You can build a restaurant menu fast with our online restaurant menu maker. With this visual menu creator, all you have to do is drag and drop menu items and check simple boxes to activate or disable options. In no time, you can impress your clients with a beautiful online menu design with intuitive use.
No online restaurant menu is complete without mouth-watering pictures that can make anyone hungry. We are aware not everyone has access to professional food images, so we came up with a solution. Our restaurant menu maker comes with a free stock of delicious photos that you can add to your dishes so your clients can crave all your foods and order more items.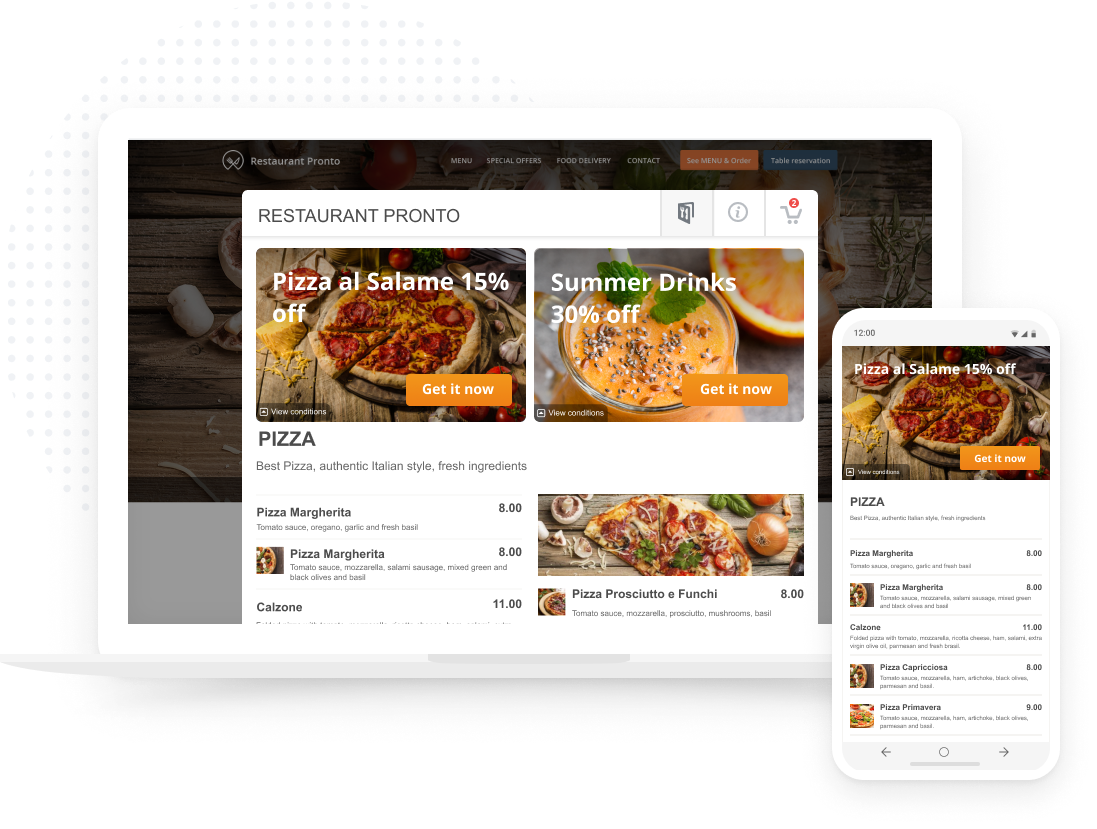 See demo
The basics of the online restaurant menu maker
We designed an online restaurant menu maker that is easy and fun for you to use and will result in a restaurant menu design that will attract customers. Here are the basic steps to create the perfect restaurant menu:
Step 1: Create food categories! Organize your menu by grouping menu items together, such as pizza, pasta, burgers etc. This way, clients can easily navigate to the dishes that interest them.
Step 2: Add menu items! You are the expert here. By clicking the "Add item" button you can showcase your delicious creations. Don't forget to add a representative photo (or choose one from our gallery) and add an appetizing description.
Step 3: Customize your menu items! With our restaurant menu builder you can allow clients to personalize items with Choices and Add-ons. For example, you can offer different types of burger buns and multiple toppings.
That's it! Start creating your own menu with the best free online restaurant menu maker!
We know some of your clients want to order your tasty food with just a few clicks on a touchscreen, regardless of the device they're using. That's why the menus built with our restaurant menu creator are mobile friendly.
The restaurant menu layout adapts to any kind of screen size or resolution. The images automatically resize as appropriate and items rearrange, so in the end you get this clean and easy to follow design. This will help you increase the conversion rate from website visitor to buying customer.