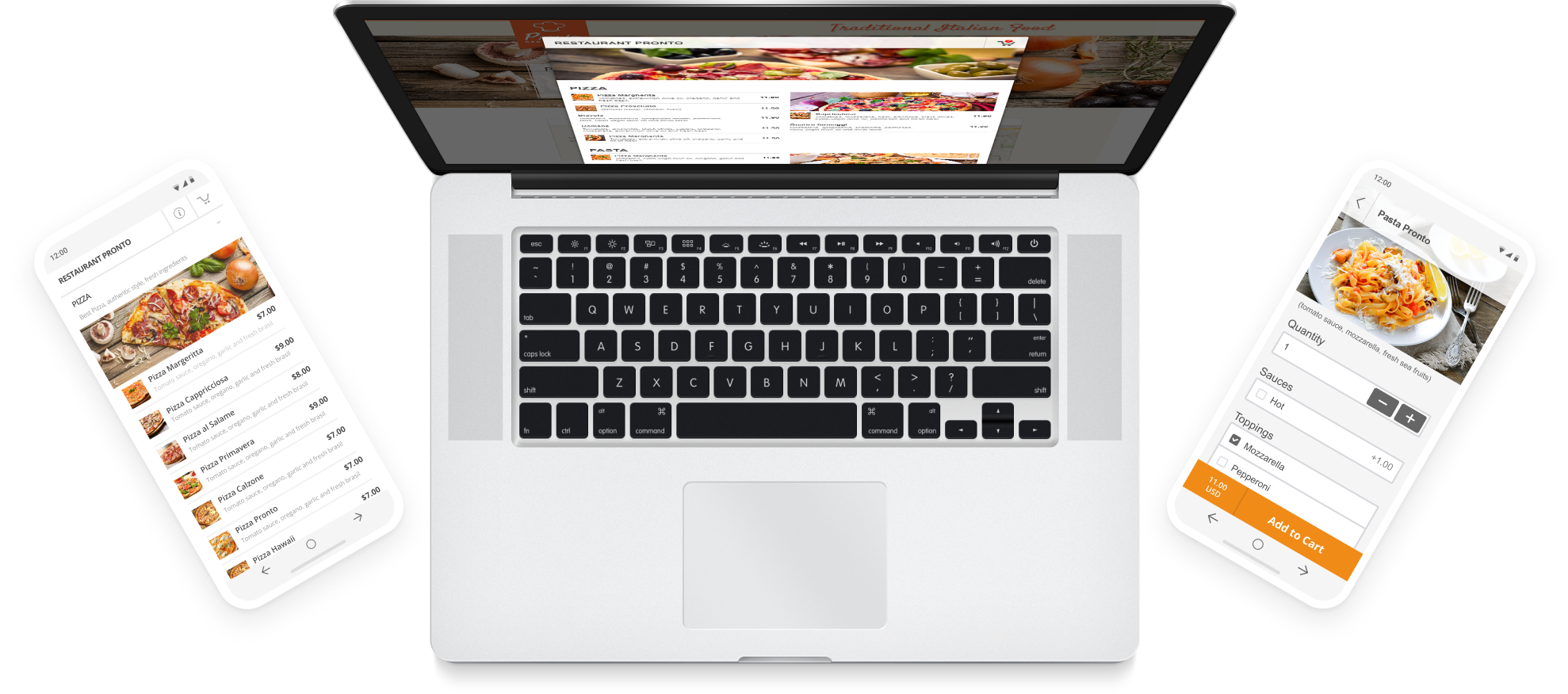 Create your online restaurant menu to start selling your foods online. As soon as tonight.
Our online restaurant menu editor allows you to add and customize food items for every type of cuisine, in just a few easy steps.
In addition, its user-friendly layout will make your restaurant menu look great on any device.
And with our vast collection of mouth-watering food images, you'll be able to create an irresistible menu for your customers & sell more food.
See demo
Easily publish your online restaurant menu on your existing website
Add an online ordering menu to your restaurant website following the step-by-step instructions in our restaurant menu creator.
By clicking the 'See Menu & Order' button, hungry customers can check out your menu and place their order fast.
Thanks to the intuitive and user-friendly interface, you'll encourage first-time customers to place repeat orders.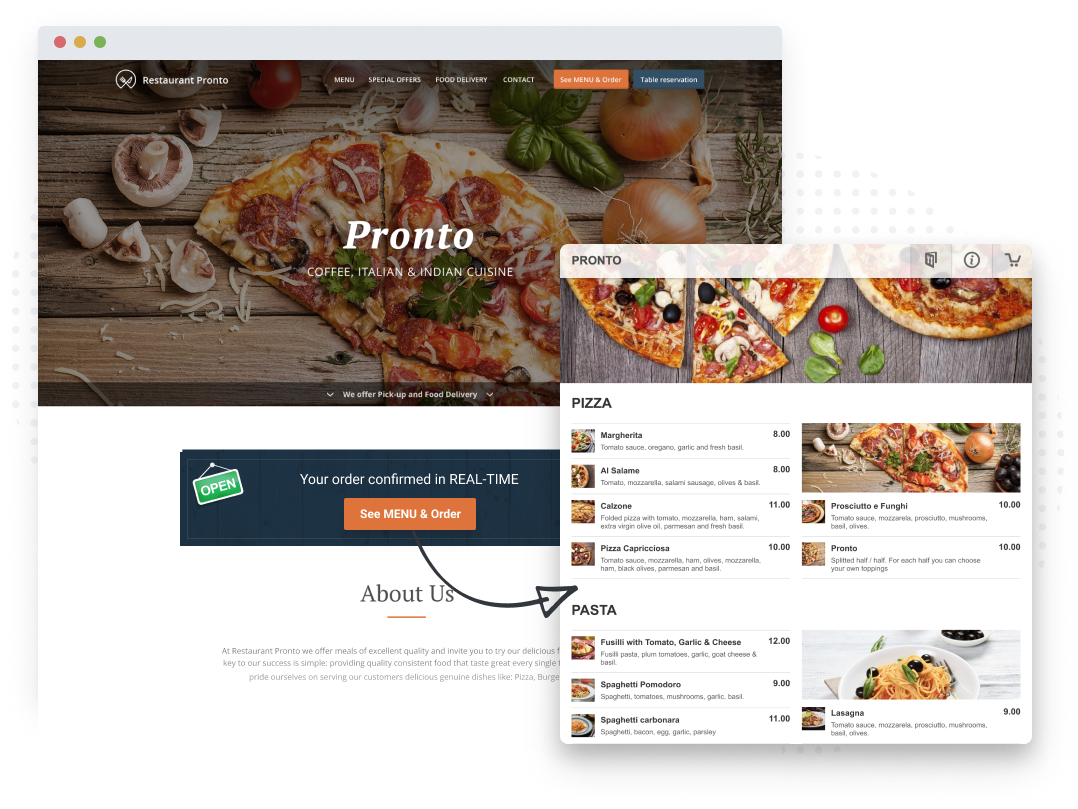 Turn likes into orders by adding your restaurant menu to your Facebook page
Convert followers into customers by adding your online restaurant menu to your Facebook page with our smart link.
By copying the smart link onto Facebook's Start Order button, you make it easy for anyone visiting your business page to order from you. So why not use this to your advantage?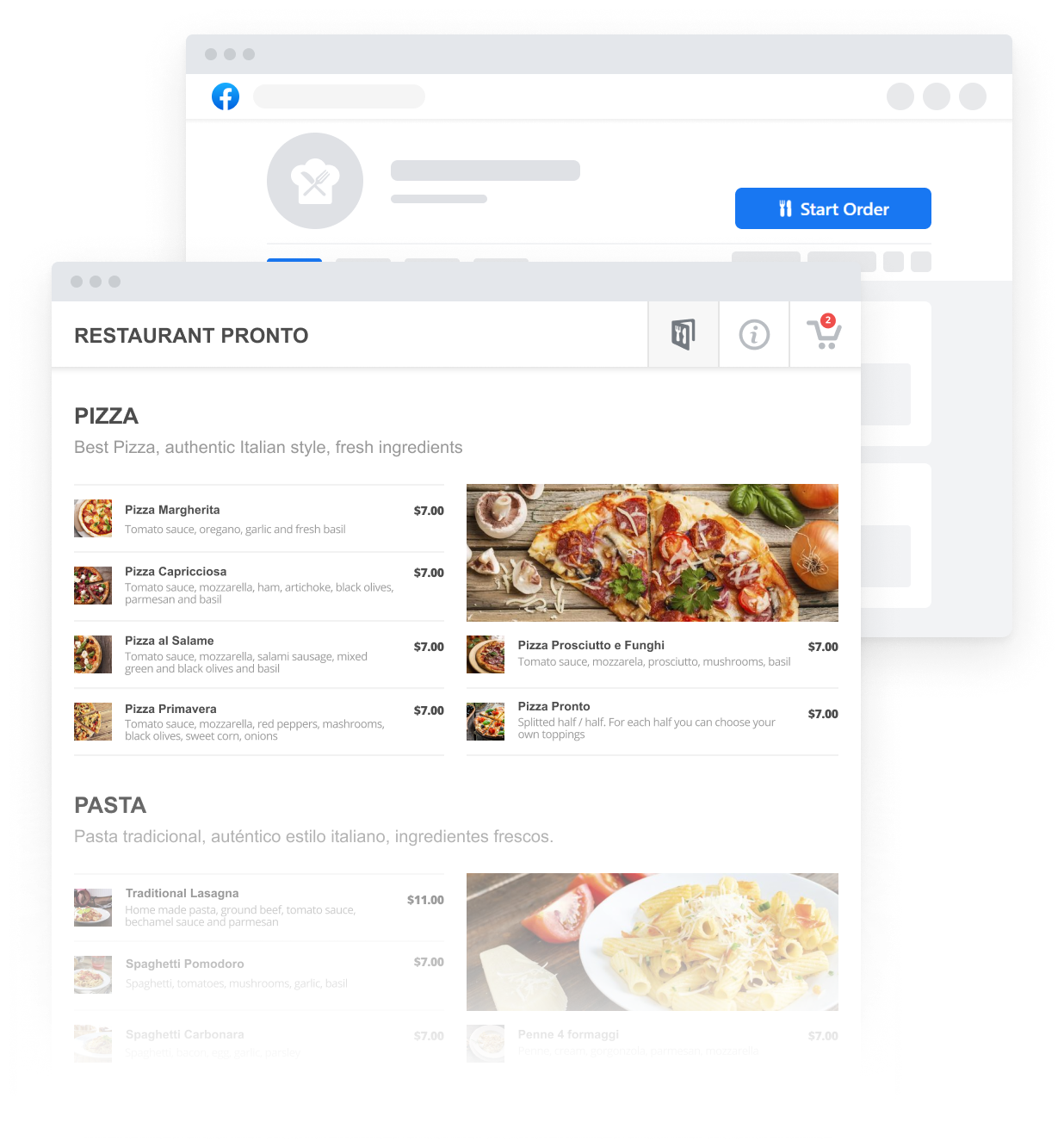 Accept unlimited online orders free of charge
Make money without having to spend any. Use our free online restaurant menu with built-in online ordering to boost your online sales.
How? By allowing your customers to order food straight from your restaurant website and Facebook page.
No fees, no commissions, no gimmicks.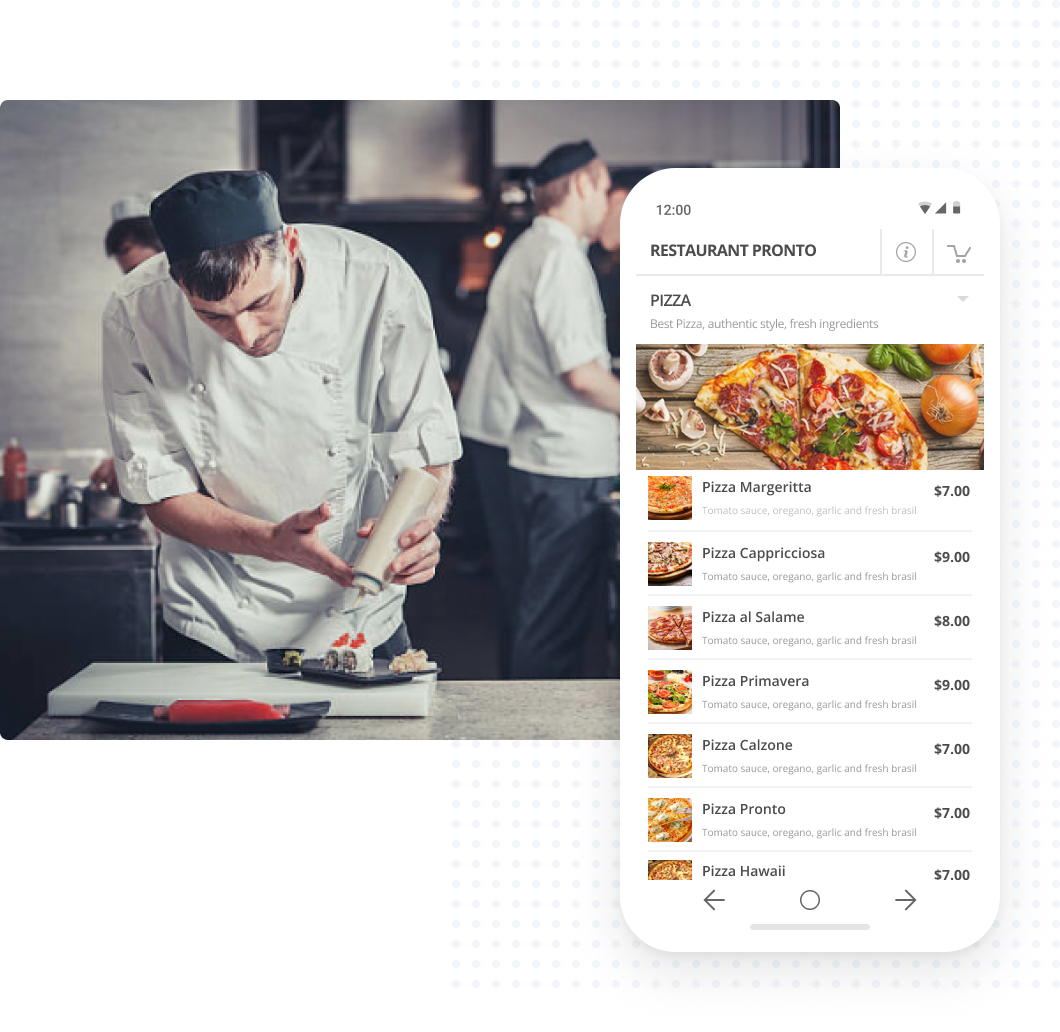 Review and confirm orders directly on your smartphone or tablet
How it works:
Download the free iOS or Android order taking app on your mobile device
When food clients visit your restaurant website, they can place an order within seconds
The order then gets pushed to the order-taking-app, where you can easily accept it and confirm the fulfillment time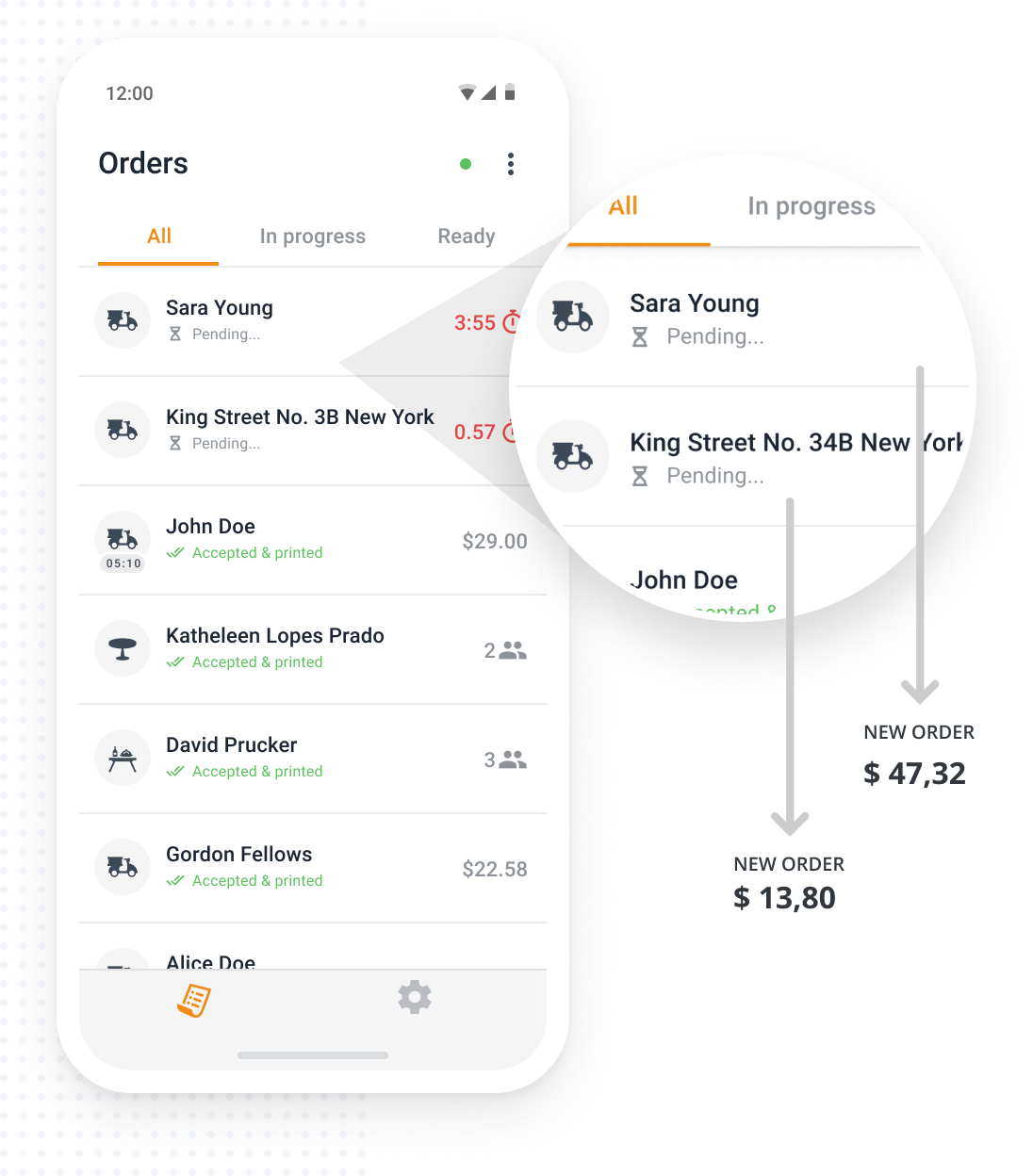 A trusted partner for thousands of restaurants
What restaurants are saying
[[restaurants_number]] restaurants can't be wrong!
Mike N.

Alexander's Steakhouse SV

"Firstly, I want to say that your platform essentially saved our company and jobs for at least a couple of dozen people in our organization. We hit a scramble and were signing up for all the delivery services we could in order to keep our doors open. I was able to setup GloriaFood on the fly and incorporate it into our company and in one week, we've been able to open some of our other concepts back up as well.
Unexpectedly, it became the favorite with all of our management teams for its simplicity, even unaware that you were commission-free. The other platforms were too complicated or posed technical difficulties that they couldn't manage when they were slammed by the onslaught of new restaurants signing up. The GloriaFood team continued to respond to my questions in a timely manner. We are grateful for you guys over here."

Baljit S.

"When we've started we had less than 15 orders a day online and within a few months we got to hundreds of orders. To make sure we're doing it right, we also did a survey and the system got a score of 4.6 out of 5 points from approx. 200 people answering on the "how was your online ordering experience" question. I guess we'll continue using this system since it's really delivering results and food clients are happy with it."

Kevin O.

"Great interface and easy to configure Works great and user friendly. Able to take orders the same day. Looking forward to using this for a long time. Suits needs exactly."

Joe J.

"Online sales is increasing while orders via phone are decreasing. GloriaFood gives the customers the convenience to order, thus they order more frequently."
Get your own free restaurant menu
with the all-in-one ordering system by GloriaFood
Get started