You can create a restaurant menu in no time with the right tool! Here's how to make your own restaurant menu, publish it and start accepting online food orders to increase your revenue, all in less than a day.
Make your own restaurant menu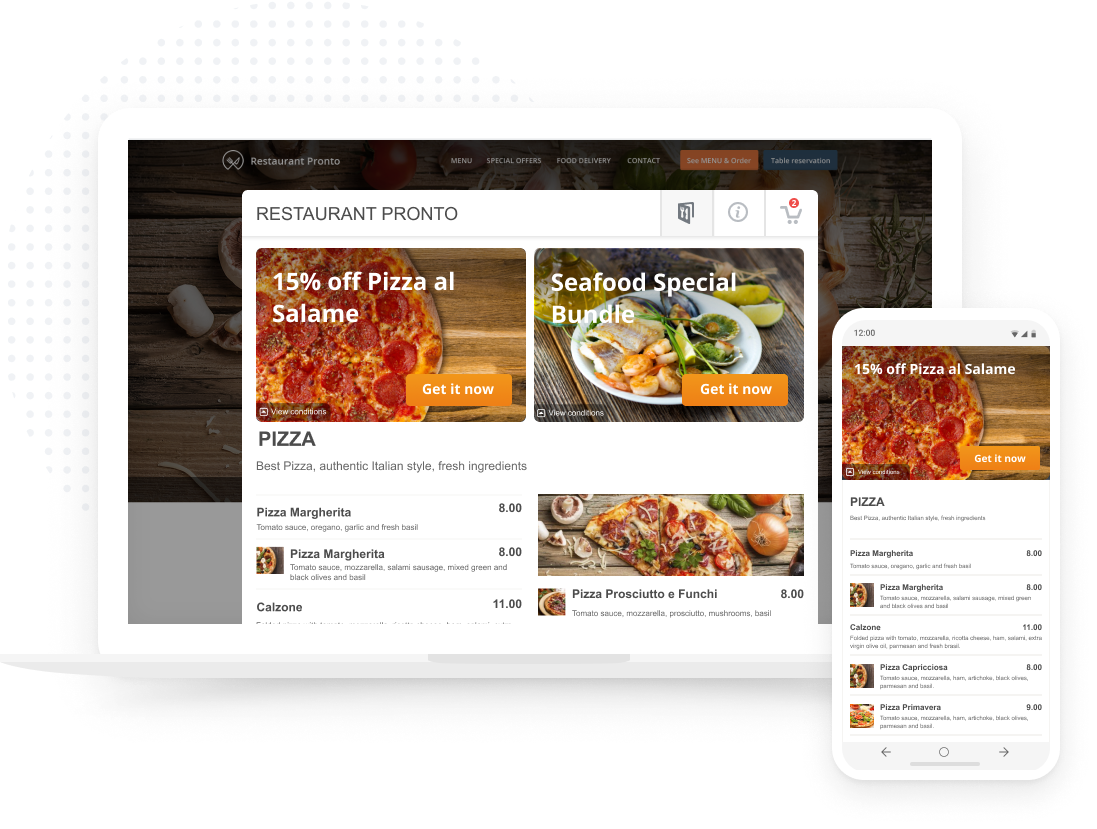 Our menu builder allows you to create an online menu that sells. Making a restaurant menu is fast and intuitive, and the end result will encourage clients to order more, much like the one pictured above.
You can't make an online restaurant menu without pictures. Tempt possible customers with mouth-watering photos! If you don't have your own, don't worry, you can choose some from our generous stock of professional images. To make it easier for you, the system pre-selects relevant pictures according to your cuisine and food categories.
Allow your clients to create the perfect dish! When you make your own restaurant menu with our free system, you get to customize more than the description and price!
Plus, you'll work smarter, not harder!
You'll be able to create choices & addons, like Toppings or dish sizes, which you can apply to the right menu category, with a simple drag-and-drop.
Set up your restaurant profile
If you want to increase your revenue with an online restaurant menu, you need to create an account.
To make a restaurant menu online, you first need to set your restaurant profile with basic information such as contact info – phone number, address, and services info – pickup, delivery, available payment methods. The information you provide will be visible on your digital restaurant menu, so customers can easily find you.
After you complete your profile, you'll receive a unique html code for the "See Menu & Order" button. Copy paste it on your website and it will open your online menu. Just like this:
Start taking online orders
Are you ready to make more money? Learn how to make your own restaurant menu in a few easy steps and start accepting online orders! Whether you want to offer pickup for two hours a day or 24-hour delivery, this system will help your business succeed.
Your own restaurant menu with integrated online ordering system: a completely free combo. No setup fees, no commissions, no binding contracts. Don't wait any longer. Start now!